NEW SSR Executor EX Series
Posted in
New Products
on Tuesday, May 14, 2013
---
SSR Executor EX series wheels are now available for order! The EX series brings luxury and sport together with three new styles. In a two piece construction wheel, it gives you the ability to customize your offset selection (in 1mm increments within a specified range). The three different disk types have been designed to maximize rim depth or to provide optimum brake caliper clearance.
Sizes: 18", 19", 20"
Widths: 7.5" - 11"
Standard Colors: Flat Titan Silver, Flat Black
Optional Colors: Black, White, Bronze, Flat Bronze, Gray Silver, Touring Gold, Gun Metallic, Flat Gun Metallic
Special Color (Additional Cost): Brushed, Super Black Coat
Center Caps: Included (Black or Silver)
NEW SSR GTF01 FORGED MONOBLOCK WHEEL!
Posted in
New Products
on Monday, April 01, 2013
---
Vienna Mueller
Posted in
New Products
on Tuesday, November 20, 2012
---
The Mueller (pronounced "myoo-lurr") is a new wheel in the SSR Vienna series that was unveiled at this year's SEMA show. Aimed towards luxury vehicles, this wheel will come in sizes 18", 19", 20", and 21", with widths ranging from 7.5" to 13" wide and a vast amount of offsets to choose from. Most notable in the Mueller are the different special color variations that are possible like the Black Polish shown above (black disk with silver highlight) or the silver & red combo shown below. Just like other SSR Vienna wheels and the three-piece SSR Professor wheels, the colors of the outer and inner barrels, disk, and bolts, can be fully customized upon ordering. The Vienna Mueller will be released in Spring 2013.
View the More-Japan Blog for more pictures.
SSR Executor CV01 and CV01S
Posted in
New Products
on Tuesday, November 06, 2012
---
This past SEMA 2012 show we unveiled our new Executor line with two new wheel designs: CV01 and CV02. The new CV01 is a three-piece wheel that comes in sizes 19″, 20″, and 21″ with step lip offered on 20″ and 21″. At the show we displayed a flat black CV01 with polished lip and also comes in Titan Silver and Brushed finish. A set of this wheel was on the High End Performance custom wide-body GTR in the Featured Cars area at SEMA. Also available is a super concave face for CV01.
For more pictures, check the More Japan Blog
Here are some pictures of the CV01S (Step Lip) in a Brushed finish. This was on athe new BMW M5 (F10), pictures by John Zhang
SSR Multi-piece Wheel Offset Chart
Posted in
Random
on Thursday, October 18, 2012
---
Have you guys had trouble understanding the offset chart for the SSR Multi-piece wheels (Professor Series)? Here's a little explanation to clear the smoke a little.
We will use the 18″ Professor SP3 offset chart for as an example.
-The numbers in the red outlined box is the lip size. So all of the widths/offsets underneath if will have the same lip size. Check the yellow outlined box. an 18×7 +49 SL disk will have the same 42mm lip as an 18×9.5 +44 HP disk.
-The letters SL, NR, MD, HP is the disk type for the wheel. For an explanation of disk types, check here.
-All widths/offsets right above or underneath one another in the same color column will have the same exterior clearance to the fender. Check the green box, the 18×7.5 +22 MD will "stick out" the same as the 18×8.5 +35mm MD. What changes in this case is the inner rim clearance to the chock/strut. So each wheel in the same colored column will have the same outer rim clearance as the one above and below it.
-The number on the top left is the availabel bolt patterns (PCD) for this wheel. This one says "4/98~4/114.3″ meaning anything 4 lug with a lug pattern between 4×98 up to 4×114.3 can be made. And the same goes for the 5 lug in which you can do any bolt pattern from 5x98 up to 5x130.
Round 4 Sugo GT Debut
Posted in
Racing News
on Thursday, July 26, 2012
---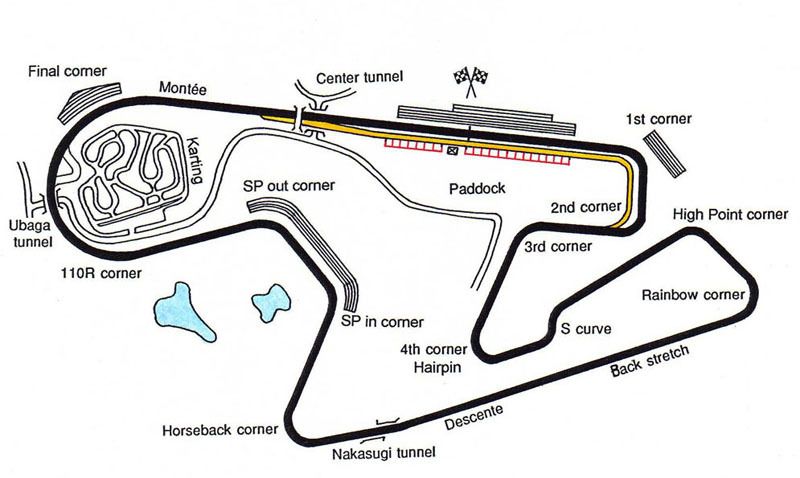 The much anticipated SSR Mugen Honda CR-Z GT Car will make its first debut in this weeks round 4 race of Super GT. This 300km race will be held at Sugo sportsland in Miyagi prefecture , Japan this Sunday. Qualifications will start Saturday at 12pm til 4:45pm with the main race starting Sunday 10am-6pm.
SSR Lugnuts
Posted in
New Products
on Friday, July 20, 2012
---
MMM nuts... Lugnuts, to be exact! SSR Lugnuts are available on More-Japan!
There are 3 types available:
- SSR Lugnuts M12x1.25, set of 4
- SSR Lugnuts M12x1.5, set of 4
- SSR MK-I & MK-II Lugnuts M12x1.5
Order now by following the link below
http://www.more-japan.com/lug-nuts/
SSR Color Menu
Posted in
New Products
on Friday, June 01, 2012
---
Did you know that you can order custom finished on your SSR Wheels? Check out a few of the options!
Getting different color faces does not cost anything extra when ordering except for when choosing Super Black Coast (SBC) or Spectrum Silver.
You can also get painted barrels, or anodized barrels at an additonal cost.
Classical Pierce bolts (black chrome) incurs additional cost.
When ordering Vienna wheels, you can also get different color faces, windows, etc.
Please inquire with your local dealer for pricing on custom finishes!
*Faces, hardware and barrels cannot be purchased separately.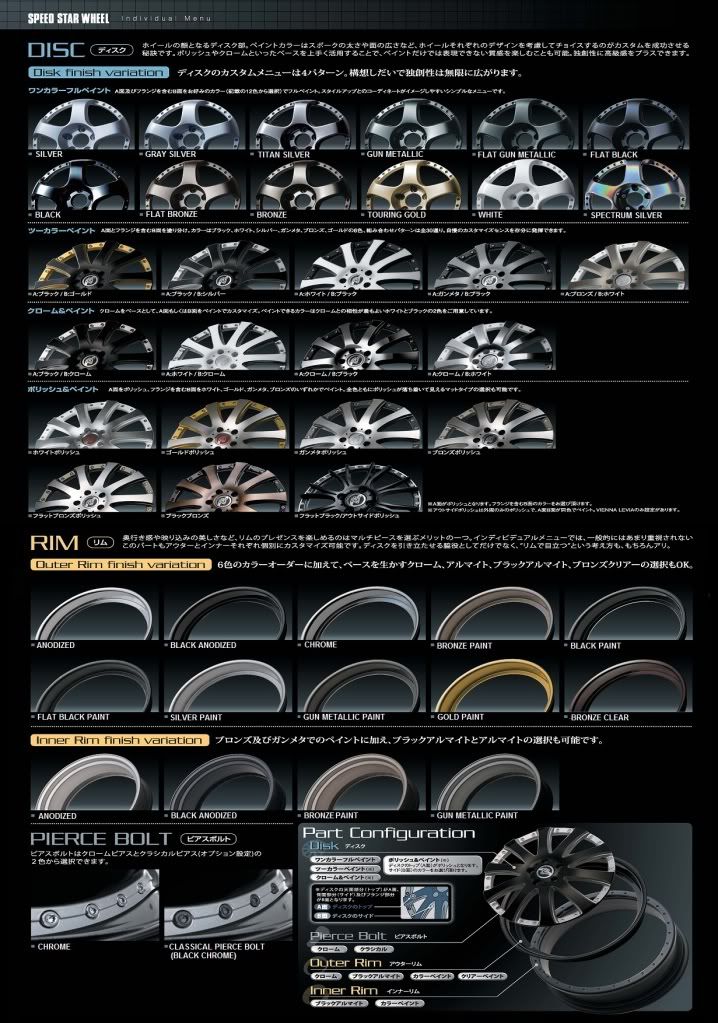 NEW Professor MS3 Wheels
Posted in
New Products
on Monday, January 02, 2012
---
New Wheel Release
SSR Professor MS3/MS3R
Sizes: 16" - 17" (Reverse Lip)
18" – 20" (Stepped Lip)
Standard Colors: Titan Silver, Flat Black, Silver
Special Order Colors: Super Black Coat (SBC), Spectrum Silver, Bronze, Flat Bronze, Gunmetal, Flat Gunmetal, White, Touring Gold, Gloss Black
Price: See website (www.ssr-wheels.com)
Technology: http://www.ssr-wheels.com/technology/
HTM (Heat Treatment Manufacture)
3 Piece Construction
New for Spring 2012 is the Professor MS3 from SSR Wheels. Because of the 3 Piece Construction, this wheel is offered in widths from 7" to 13.5" (Stepped Lip), 5.5"-12" (Reverse-Lip) and a very large offset range (Please refer to www.ssr-wheels.com for full details and specs)
NEW Available Colors!
Posted in
Wheel News!
on Tuesday, April 05, 2011
---
BLACK BRONZE (SSR Vienna Kairos and Levia shown)
SPECTRUM SILVER (SSR VIENNA MERISIA and SSR PROFESSOR SP1 shown)